Does
Click on Pictures to enlarge
3* M SG Urban Acres MS Storm Sonata
VEEV 89 DOB 2/28/15 DNA typed B/B Alpha Casein
Sire: *B CH Camanna LI Moonlight Symphony V+VV 86
SD: CH Camanna CS Moonlight Sonata EEEE 91
SS: *B AGS Dill's D Lucky's Image

Dam: 2*M SGCH Urban Acres WC Rainy Day VEEE 90
DD: 1*M SG AGS Copper Penny Blue Eyed Susan
DS: +B SG AGS NC Promisedland HS White Cloud


Stormy received her Superior Genetics status in 2019. I really love this girl! She just loves to show. She is nice and wide through the rump and hocks, scores very high on foreudder, udder height, arch and produces the same. Her Dam SGCH URBAN ACRES WC RAINY DAY excels in Strength, Dairyness, rump width, foreudder attachment, rear udder height and scored a 40 rear udder arch!
Stormy's paternal granddam MOONLIGHT SONATA is very dairy and feminine exhibiting great rear leg angulation, and a capacious udder with broad attachments. She has managed 3 Grand Champions, 4 Best of Breed and 3 Supreme Best Udder wins. In 2015, Sonata scored EEEE91 on LA as an 8 year old with E's in Rump, Legs, Shoulders, Back and Head with a bonus of 39 in rear udder height and a 34 in Udder Arch.
Her full sister GCH URBAN ACRES MS AME KURO VVEE 89 at 3 years had multiple show wins and scored a 43 in rear udder height and a 44 in rear udder arch. You can see these udder genetics run deep.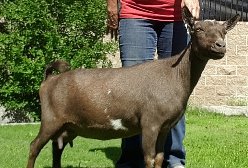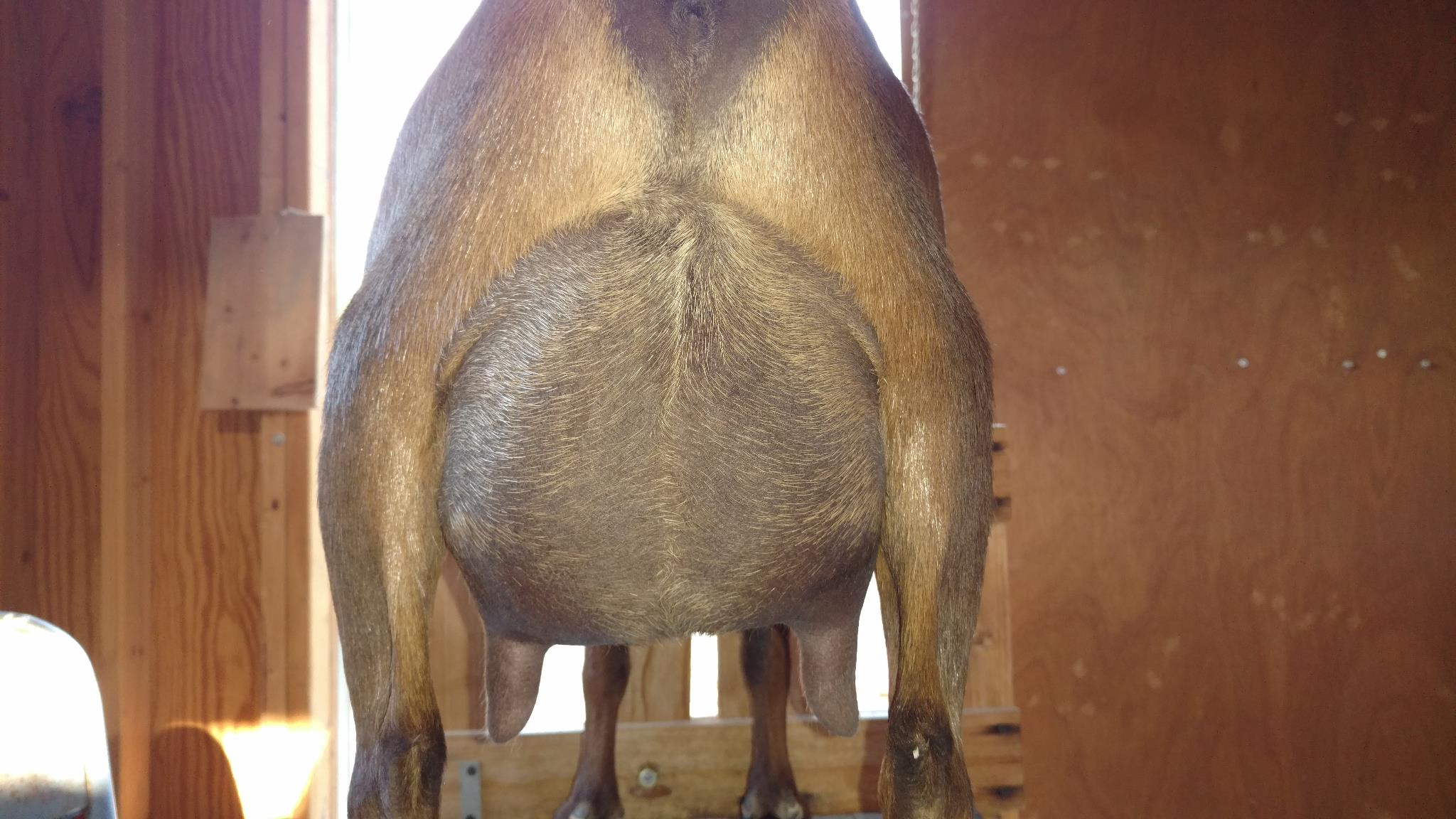 1*M Paxsonkdz TS Say I Do
++EV 84 DOB 3/17/16
Sire: +*B Algedi Farm H Thunderstruck VEE 89
SS: ++*B AGS Rosasharn's UMT Hamachi VVV 85
SD: 3*M SGCH AGS Rosacharn's TL Zenith EEVE 90
Dam: Alethia SHH Something Borrowed EEVV 88
DS: +*B GCH Algedi Farm Smokin' Hot Honey VEE 89
DD: Algedi Farm DJ Wedded Bliss
Sadie's dam, Alethia SHH Something Borrowed was the 2015 ADGA Jr National Champion and and 4X best Jr Doe in Show and excels in Dairy Strength, rump and back with high linear scores in udder height, depth and foreudder attachment.
Her sire, Algedi Farm H Thunderstruck is by SGCH Rosasharn's TL Zenith 3*M EEVE 90, an amazing doe and contributor to the breed.
Sadie has a nice level topline , wide udder arch, nice attachments and very nice foreudder. Open orifices, milks out quickly and easily by hand. She has her milk star in butterfat and protein.
She has great milkstand manners and is so easy to handle. Very sweet personality. This is one of the kindest and most affectionate goats I've ever had.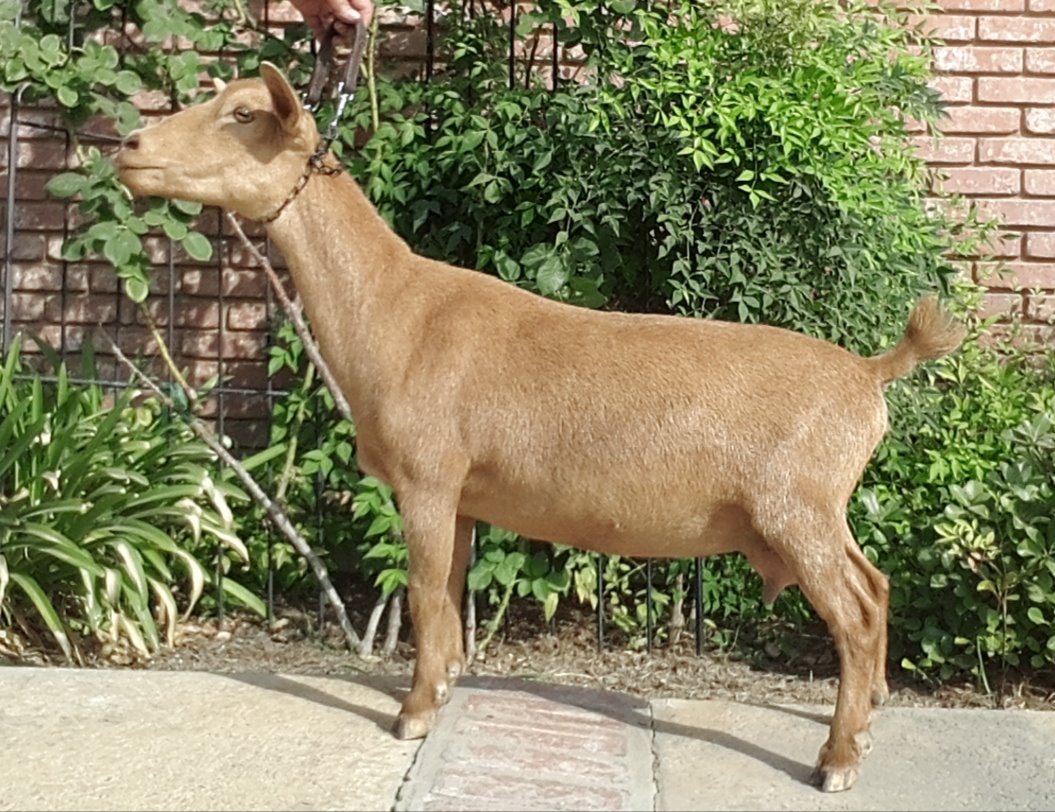 Pictured as a yearling First Freshener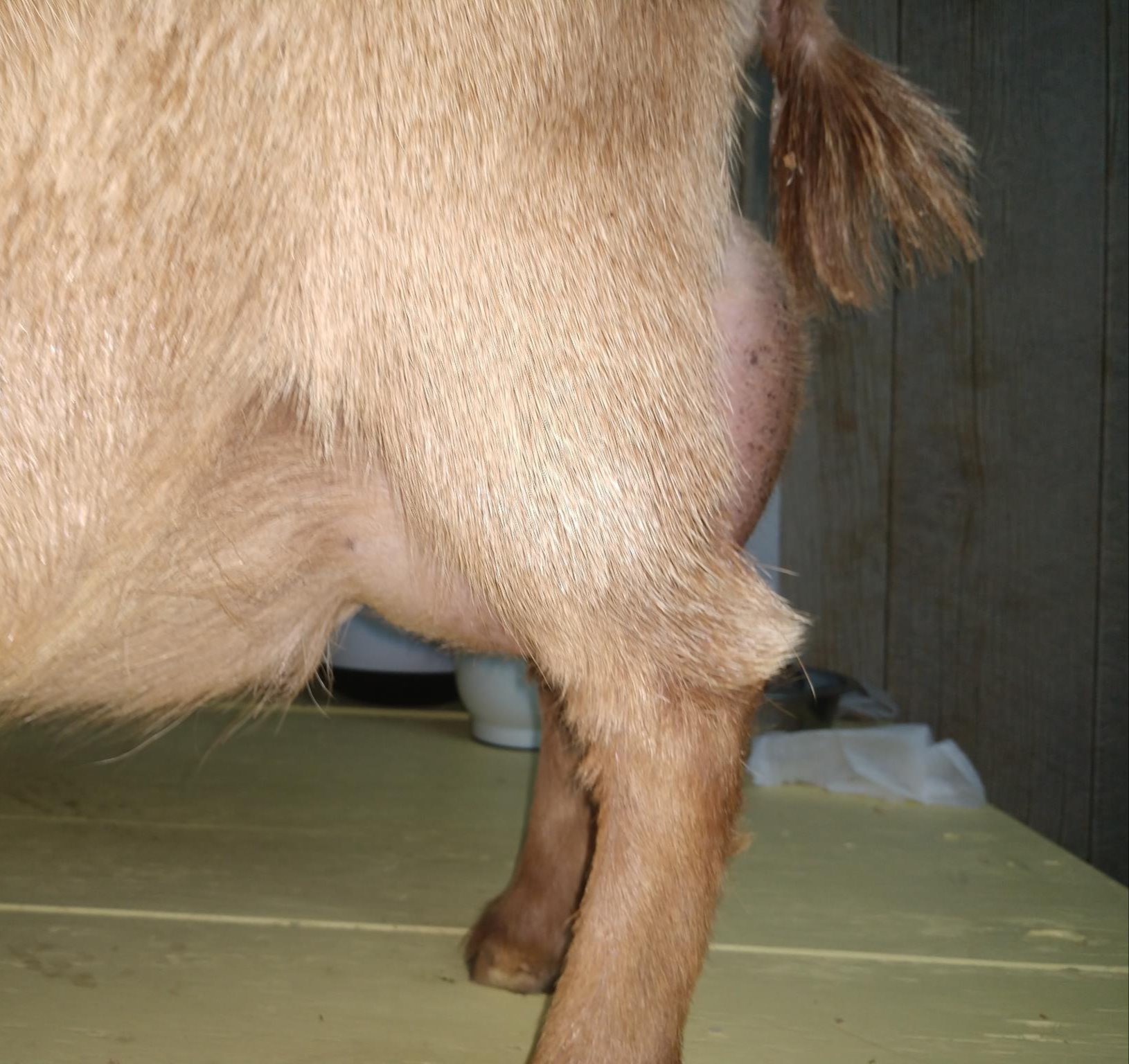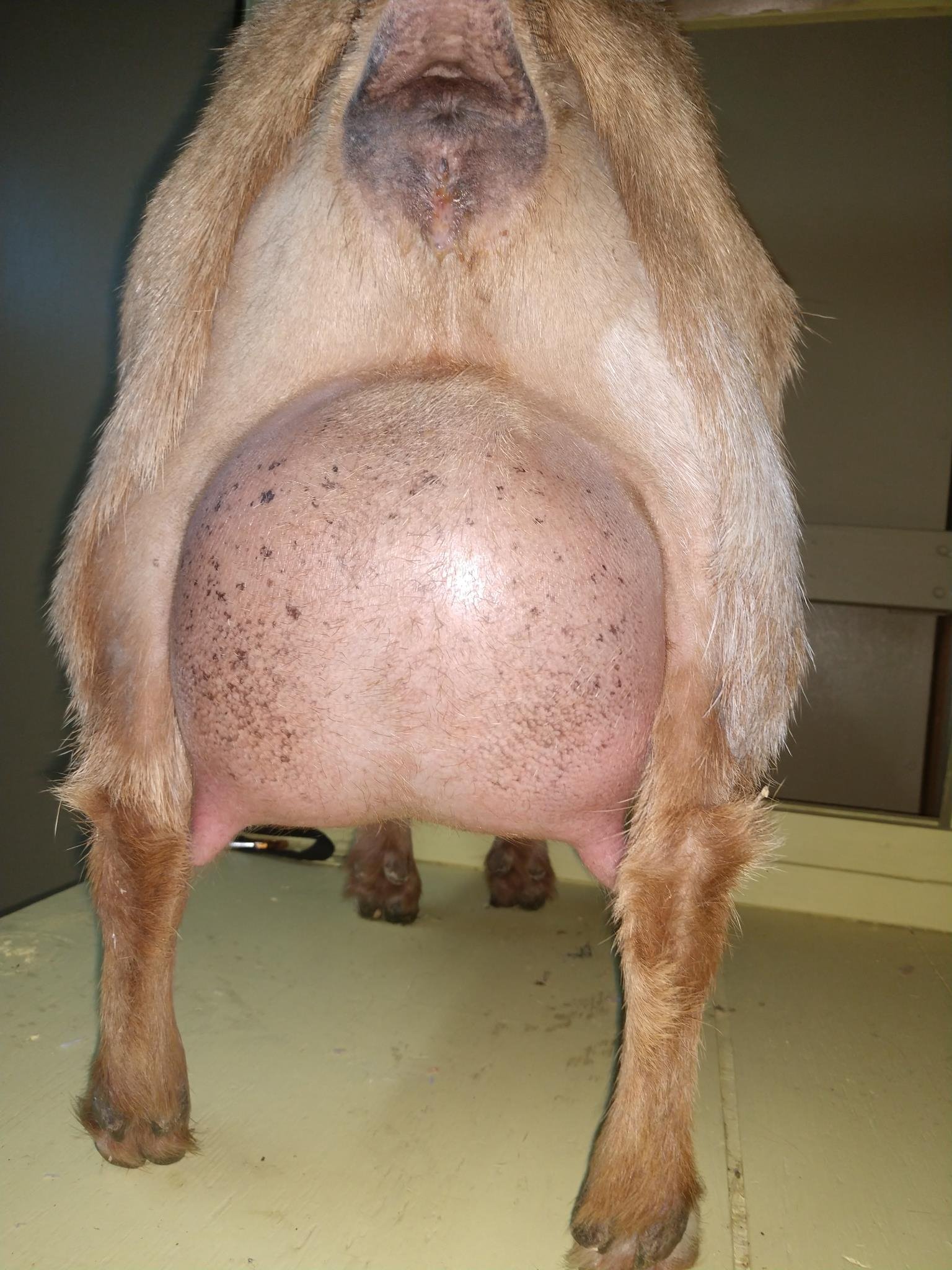 Udder pics are from January 2020 , 2 weeks fresh after kidding with quads.
Lil Miss B Haven SolomonsMagic
DOB 4/7/2019
Sire: Agape's Prize Sulaymaan Quinn
2019 ADGA Junior Get of Sire
SD: CH Wood Bridge Farm Leviandiamond VEEE 91 (2019 Nationals 10th place 4 yr old Milker)
SS: +*B Old Mountain Farm Keidan Quinn +EE 88

Dam: Lil Miss B Haven Bewitched
2019 Nationals 8th Place Yearling Milker
DD: SGCH 1*M Wood Bridge Farm Hocus Pocus VVEE 90
(2019 Nationals 11th place 3yr old Milker)
DS: Wood Bridge Farm Bearnecessity

I am so excited to add 'Magic' to the herd this year. I have long admired Wood Bridge Farm and Old Mountain Farm stock and when I showed behind Wood Bridge Farm Hocus Pocus at the Motherlode show in 2018, I knew I needed to add these genetics to my herd. The 2019 Nationals proved the point. These lines consistently produce a balance of dairyness, femininity, strength, attachment of mammary, capacity and production.
Bewitched is a first freshening daughter of Hocus Pocus and shows the consistency of a well attached, globular udder these lines are famous for. I look forward to seeing this beauty mature.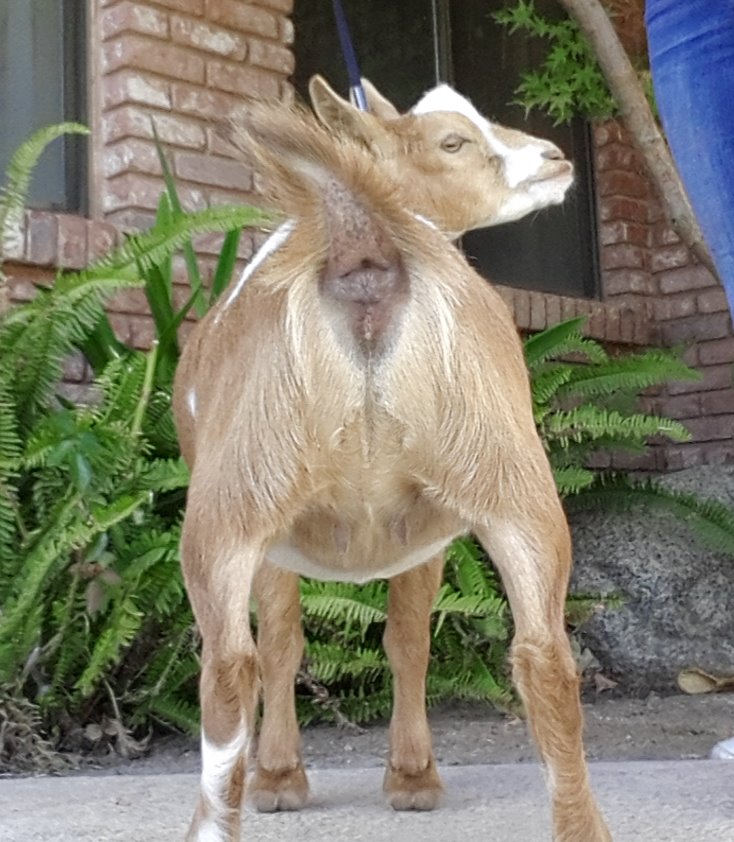 OllieMae Farm SK Edelweiss
DOB 3/6/2019
Sire: *B Old Mountain Farm Stag Knight V+V 84
SD: 3*M SG AR NC Promisedland Nemesis
SS: ++B SG Old Mountain Farm Stag

Dam: OllieMae Farm Moonflower +VVV86 at 2 yrs
DD: 3*M SG Urban Acres MS Storm Sonata
DS: *B Castle Rock Big City Nights +VE 85 (OH)



Edel is one of several doelings retained this year from a very successful AI season. She is an Old Mountain Farm Stag Knight daughter and one of the longest bodied, leggiest kids I've ever had born here. She placed 1st in both rings at the Mid State Dairy Goat show and will be shown next year as a dry yearling.
Stag Knight is full brother to Old Mountain Farm Bold Elk, 2018 National Premier Sire and sire of CH Old Mountain Farm Merriment, the 2017 ADGA National Champion & Best Udder.
Promisedland Nemesis, Edel's paternal grand dam is an incredible deep bodied doe and a perfect balance of strength and dairyness. Some of her progeny include Old Mountain Farm Bold Elk, Merriment and Shy Elk with ADGA National titles just to name a few. I am looking forward to a potential Nemesis line breeding on this beautiful girl.
Edel will be AI'd to Wood Bridge Farm Undeniable for spring 2020 kids.
Show Record:
As an Intermediate Kid
2019 Santa Barbara Show: 2 rings, 2nd of 7 & 3rd of 7
2019 Mid State Dairy Goat Show: 2 rings, 1st of 6 & 1st of 6
OllieMae Farm BB Salt Peanuts
DOB 2/6/2019
Sire: *B CH J-Nels DH Be Bop +EE 86
SS: +*B GCH Algedi Farm DJ Drops of Honey
SD: 2*M SGCH J-Nels ER Dumplin VEEE 90

Dam: 1*M OllieMae Farm Lotus Elise +VV+ 83
DS: *B Castle Rock Big City Nights +VE 85 (OH)
DD: Castle Rock Wild Wheels R4Gals
Peanut is another retained AI doeling and wow, I am really loving this girl! Her dam's length and dairyness combined with Be Bop's correctness has really put this girl to the top. She will be AI'd to J-Nels He's a Chipper Boy this fall for 2020 spring kids. An exciting linebreed on J-Nels ER Dumplin.
Show record:
As a Senior Kid
2019 Santa Barbara Show: 2 rings - 3rd of 18 & 4th of 16
2019 Mid State Dairy Goat Show: 2 rings -
4th of 17 & 2nd of 17
2019 Kern County Fair: 1st place
Grass Valley Temptress Maia
DOB 3/30/2019
Sire: *B Dill's RD 8 Seconds AVV 81
SS: +*B NC Promisedland MS River Dance
SD: 3*M GCH Dill's Lucille Two VEVE 90

Dam: Grass Valley Temptress
DS: Grass Valley Sizzlin' Hot LMan
DD: Piddlin Acres BRS Allure




While I was at Money Pit Farm helping with appraisals, I couldn't help but notice Grass Valley Temptress. Gorgeous well attached mammary and a long, very dairy doe. (Also pictured) She had blue eyed triplet doelings and I had to bring one of them home. Maia will bred in the fall of 2020 for spring 2021 kids.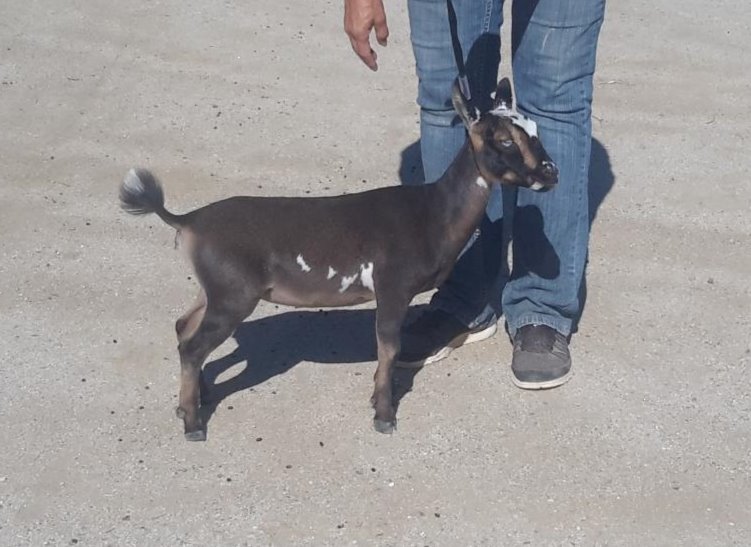 Show Record:
As an Intermediate Kid
2019 Kern County Fair: 1st Place