FOR SALE
 Kids will begin arriving February 2023

Beautiful potential mammaries here on both does!
OllieMae Farm TS Bonnie Blue
$600
DOB 3/12/22
Need to buy a portable milker for the shows... so this girl is for sale. I already have her littermate sister so I need to let go of this one.
Again another doe that represents what we striving for in our breeding program. Very long and level, dairyness galore, front legs directly under withers with excellent brisket extension and depth through the flank. This girl excells dairyness, flatness and length of bone. She will mature into a very elegant doe.
Her dam Stella is pictured on the doe page including udder. Papers are in hand for this beauty.
Dam is on milk test and this doeling will be a 5* when she qualifies.
Dam - 4*M OllieMae Farm RF Stella Blue
DS - Owlhaven MH Rascal Flats
DD - 3*M SG Urban Acres Storm Sonata
Sire - IlenesRascals WP Tomo San
SS - Wood Bridge Farm Promisclasact
SD - 3*M Urban Acres HK Trilli


MoneyPit Farms$$ BT Ruby
DOB 4/30/21
$300
Ruby is a dark buckskin, smoothly blended with straight legs, width and depth with wide open escutcheon and promises to be a powerful doe. If you milk test, she will quality for at least a 3* if she reaches minimums.
She would have been a 2yr old first freshener but after 3 heat cycles I have been unable to get her settled. With a complete farm move this year and so many goats added to the herd, I am staying with a strict program of Feb/Mar kiddings. Breeding now will get me into April so its up to someone else to get the job done. Could be a great opportunity for someone. Shoot me a message and we can discuss.
Sire: Grass Valley Beethoven VVV 86
SS: Algedi Farm Sizzlin' Hot Honey
SD: Trilogy Ranch MH Sonata
Dam: Grass Valley HB Baby Ruth
DS: Alethia DB Heath Bar
DD: Grass Valley LM Sassy Pants VVVE 89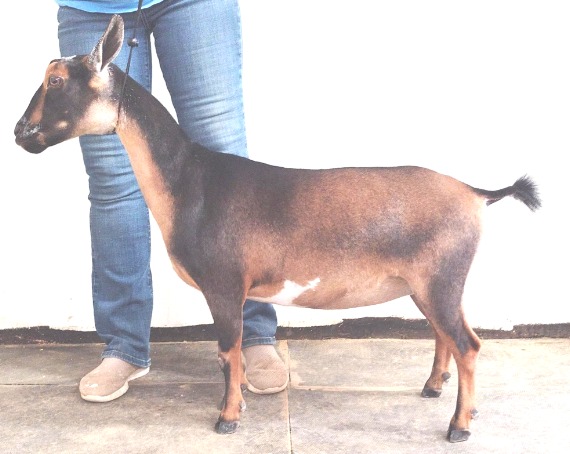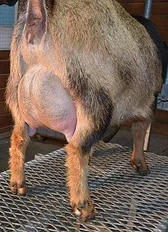 Dam: Grass Valley HB Baby Ruth FF udder
photo courtesy of Money Pit Farm