Ilenesrascals WP Tomo San *B

DOB 1/16/2019 DNA On file
Sire: Wood Bridge Farm Promisclasact
SS: CH Wood Bridge Farm Undeniable
SD: CH Wood Bridge Farm Pets Promise VEVE 89
Dam: CH 3*M Urban Acres HK Trilli +V++ 82 (at one year of age)

DS: *B Urban Acres CRF-BI Henrik
DD: 2*M GCH Urban Acres ASD Tinker Bell VVEE 90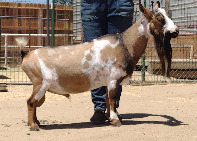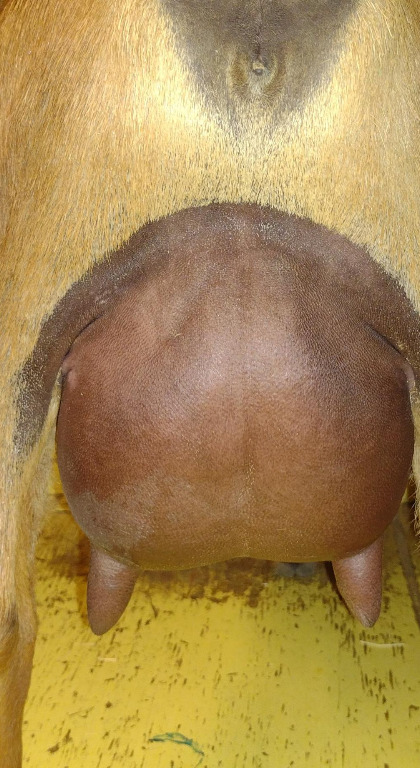 First freshening daughter - OllieMae Farm TS Jasumin

Dam - Urban Acres HK Trilli 3*M
Photo courtesy of Ilenes Rascals Farm


I saw the sale post for this buckling and knew I needed to bring him home. Tomo combined some of the lines currently here, but also added some new Wood Bridge lines I had long admired. Tomo stands on good feet and upright pasterns. He is long, long all over. Great shoulders, brisket and back. I am very happy to have him here. On the paternal side he is from a long line of some of the best Wood Bridge and Old Mountain have to offer. On the maternal side, his dam; CH Urban Acres HK Trilli who placed 6th at the 2021 Nationals in the 4yr old milker class and granddam; GCH Urban Acres ASD Tinker Bell. Thank you Ilensrascals for breeding such a nice buckling. He is a paternal half sibling to IlenesRascals Teacher's Hot, 3rd place junior yearling at Nationals and Wolfivan WP Patchouli, who placed 15th as a yearling milker.

Grass Valley Jack O'Lantern
DOB 5/2/2019 DNA on file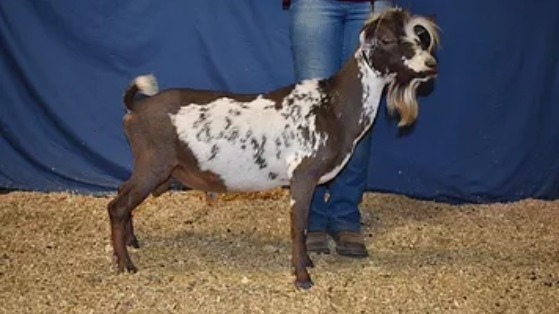 Sire Algedi Farm Sizzlin' Hot Honey
SS Algedi Farm Drops of Jupiter
SD Rosasharn's UMT Tupelo Honey EEEE91

Dam Lil Miss B Haven Trick or Treat
DS Lil Miss B Haven WM Francois
DD Wood Bridge Farm Hocus Pocus VVEE90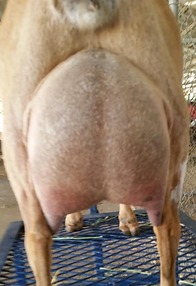 Dam: Lil Miss B Haven Trick or Treat (FF udder) Photo courtesy of Grass Valley Goats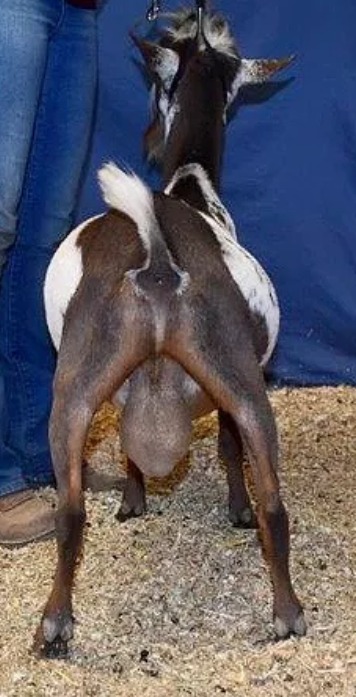 Jack is a stunning buck with a stellar pedigree grounded in consistent producers and show winners. He is fairly young but will have several daughters freshening spring of 2023.

3G Family Farm SC Huckleberry (*B pending)
DOB 4/16/2020 DNA on file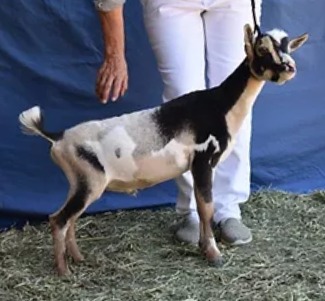 Sire 3G Family Farm Sweet Cheeks
SS Agape's Prize Sulaymaan Quinn
SD SGCH 7*M Castle Rock Sweet N Low VEEE 90

Dam GCH 4*M 3 G Family Farm WM Apricot VEEE 91

DS TX Twincreeks RM Watermark
DD GCH 3*M 3 G Family Farm HM Peaches +EEE89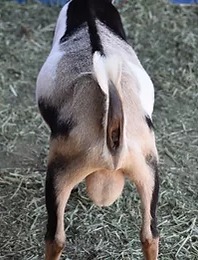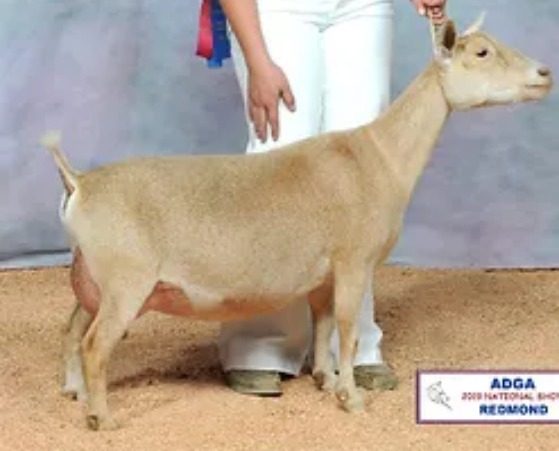 Dam - GCH 4*M 3G Family Farm WM Apricot
 Photo courtesy of 3G Family Farm
Huck's dam Apricot is such a lovely example of the consistency her sire Twincreeks RM Watermark puts on his progeny. Champions and milk production are well represented here.
His sire 3 G Family Farm Sweet Cheeks is producing some lovely daughters with beautifully attached mammaries.
All of Huck's close maternal lines excel in mammary, all scoring 'Excellent'.

MoneyPit Farms$$ ME Magnus (*B pending)

DOB 4/2/2022 DNA pending

Magnus dam Temptress has a beautiful udder at 7 , nearly eight years old. (Her linear score in mammary is an 'E') She continues to improve with age and considering she has only had this one son in all those years, he very much needed to stay here. His young sire Merlin is by Grass Valley HS Miss Moo who really excelled in LA scores across the board. Combined with the pedigree behind Grass Valley Jack O'Latern (A Wood Bridge Farm Hocus Pocus grandson) it really looks like an exciting combination and great potential for this chocolate and white blue eyed boy!
Sire MoneyPit Farms$$ JK Merlin
SS Grass Valley Jack O'Latern
SD Grass Valley HS Miss Moo EEEE91

Dam 1*M Grass Valley Temptress VEVE89

DS Grass Valley Sizzln' Hot LMan
DD Piddlin Acres BRS Allure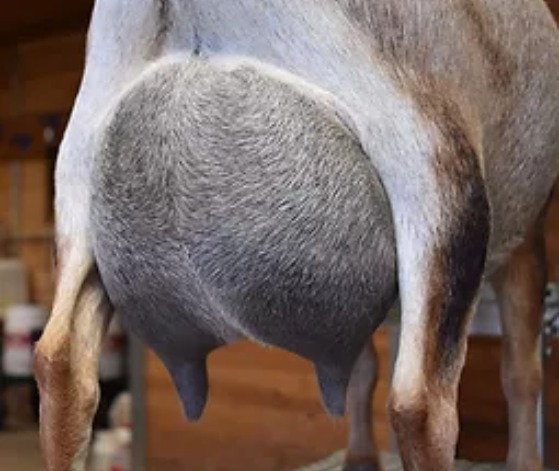 Dam - Grass Valley Temptress 1*M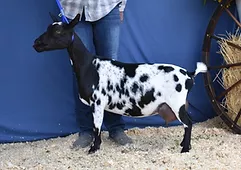 Sire's Dam - Grass Valley HS Miss Moo 1*M (EEEE91)