Our Herdsires
Click on Pictures to Enlarge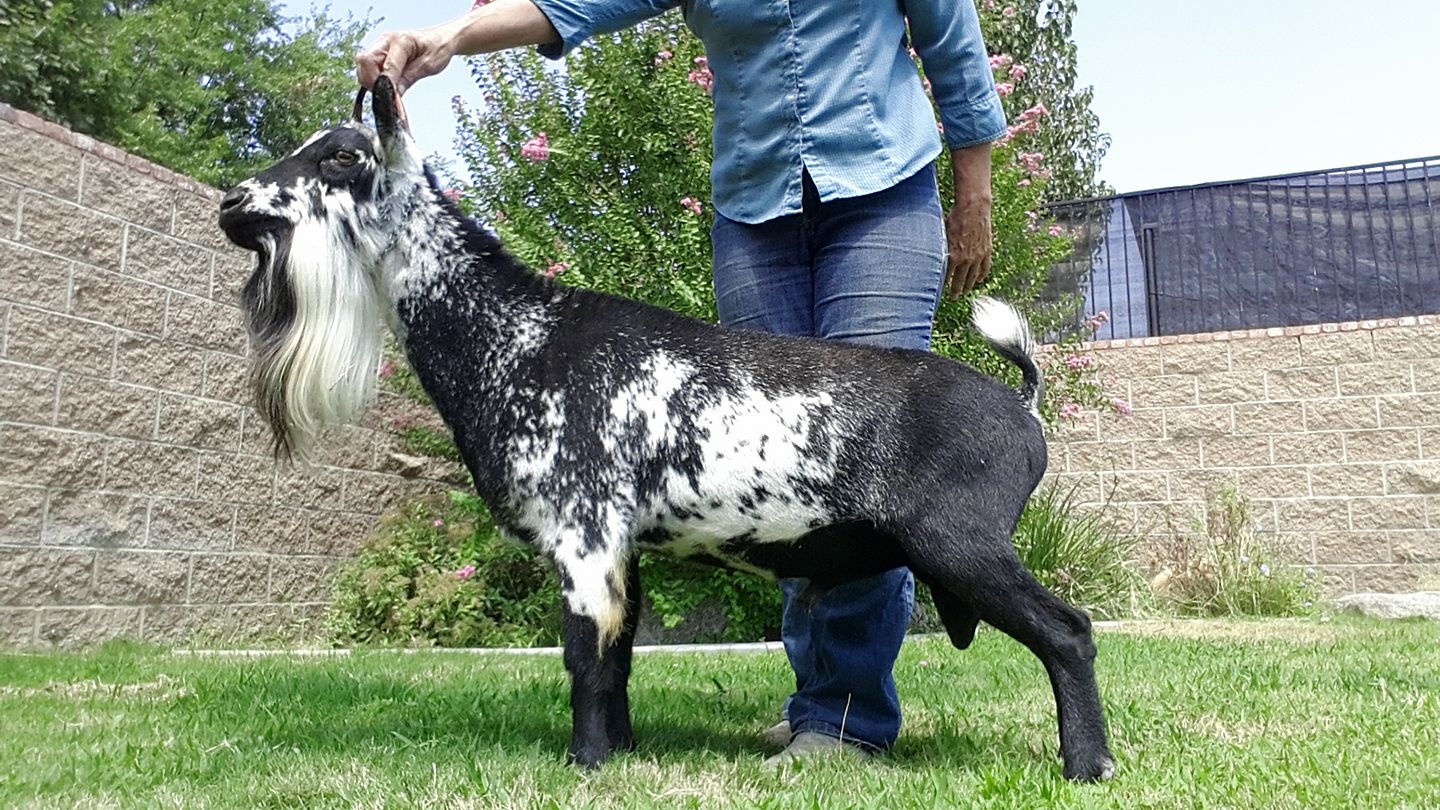 For Sale (see sale page)

*B Castle Rock Big City Nights +VE 85 at 4yrs (OH)  DOB 2/18/15
DNA typed A/B Alpha s1 Casein
Sire: Castle Rock Chicago Peace
SS: Copper Penny ROF Calico Jack
SD: *M GCH AGS CRF Castle Rock Tuscan Sun VEEE 90
Dam: 2*M GCH CRF Castle Rock Black Ice EEEE 92

DS: +B CRF Castle Rock Guy Noir
DD: 1*M SGCH AGS CRF Castle Rock Blizzard VEEE 91

City is a handsome buck, long level with open ribbing. A very dairy buck that has sure taken his time maturing but worth the wait. Sharp withers, uphill & good feet. His daughters are consistent in nice teat size, attachments, length of body, dairyness and wide udder arches.
His dam is GCH CRF Castle Rock Black Ice EEEE92 , the1st place Aged Doe and Nigerian Total Performer at the 2015 ADGA National Show along with multiple other wins. His Sire, Chicago Peace, is a littermate brother to GCH Castle Rock Sunsilk 3*M who received an LA score of EEEE 91 in 2015. Sunsilk was 5th place at the ADGA National Show in 4 year Old Milkers
City has several daughters who freshened this year and is exhibiting the capacity to pass on his dairyness, length of body, and wide open escutcheon. Some of his first daughters include OllieMae Farm Stormy Night +VEV 86 & OllieMae Farm BCN Moonflower +VVV 86.
His pedigree reads as some of the best bloodlines Castle Rock has to offer. An added bonus is he has the sweetest personality, a trait he seems to pass on to his kids as well. He was measured over height by 1/4" at 4 yrs old.
For Sale (see sale page)

*B OllieMae Farm Life is a Hiway +VV 85 at 1 yr
DNA typed A/B Alpha s1 Casein
*B Owlhaven MH Rascal Flats (OH)
Sire: ++*B Algedi Farm MB Manuka Honey VVE 88
Dam: 2*M SG AGS Proctor Hill Farm Pistol Annie
 4*M OllieMae Farm Stormy Night +VEV 86
Sire: *B Castle Rock Big City Nights +VE 85 (OH)
Dam: 3*M Urban Acres MS Storm Sonata VEEV 89
"Stitch' is another home bred buck (one of triplets) , a Manuka Honey grandson I really liked as soon as he was born. He has great rump width (linear score of 40) and is open through the escutcheon (LA score of 30 on udder arch) and wide through the hocks. Love the length on this guy. His dam OllieMae farm Stormy Night received an LA score of VEE+ 86 as a 2 yr old FF. She milked over 6lbs per day at 2 weeks fresh. I really wanted to keep this guy since his dam is one of my favorites and has such a will to milk. At 4 months fresh she has settled in 4+lbs/day. She has consistently shown well at the top of her class.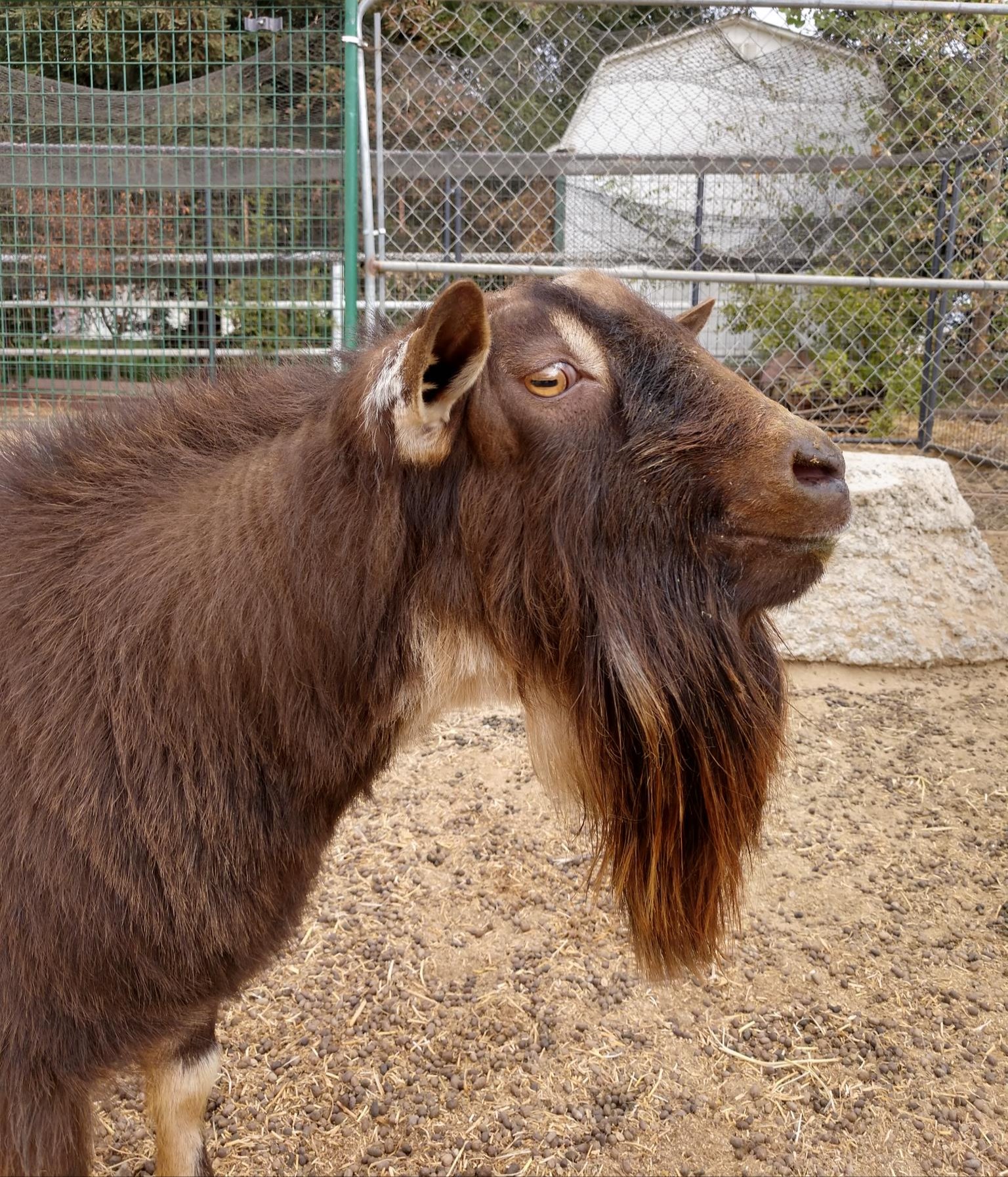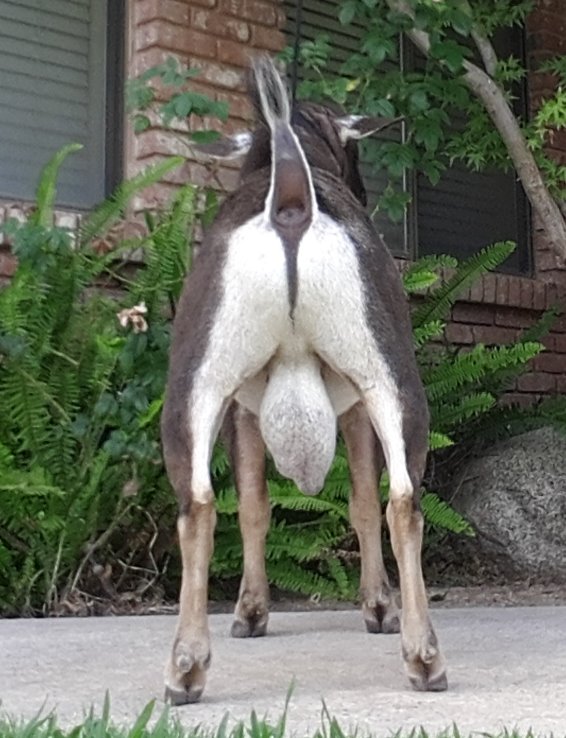 Pictured with a 6 hour fill
*B OllieMae Farm HB Chladni
Sire: *B CH Algedi Farm DJ Higgs Boson EVE 90
SS: ++*B GCH Algedi Farm Drops Of Jupiter EEE 91
SD: 3*M SGCH AGS Rosasharn's TL Zenith EEVE 90
Dam: 3*M SG Urban Acres Ms Storm Sonata
VEEV 89
DS: *B CH Camanna LI Moonlight Symphony V+V 86
DD: 2*M SGCH Urban Acres WC Rainy Day VEEE 90
'Chad' is one of twin bucks and I had to keep just one. The dairy skin and open ribbing was evident immediately. Chad has nice brisket extension, a level back, long loin and hip. Stellar genetics here out of a SG dam.
His sire, CH Algedi Farm DJ Higgs Boson is a Zenith son and is continuing the solid legacy of consistent progeny.
Chladni is half sibling to Hidden Hills HB River Blossom who has her dry leg and won Best Junior Doe in Show out of 115 in Chino 2019 and placed 4th at Nationals in her dry yearling class.
Hidden Hills HB River Blossom Courtesy of Hidden Hills Nigerians
Ilenesrascals WP Tomo San
Sire: Wood Bridge Farm Promisclasact
SS: CH Wood Bridge Farm Undeniable
SD: CH Wood Bridge Farm Pets Promise VEVE 89
Dam: Urban Acres HK Trilli +V++ 82
DS: *B Urban Acres CRF-BI Henrik
DD: 2*M GCH Urban Acres ASD Tinker Bell VVEE 90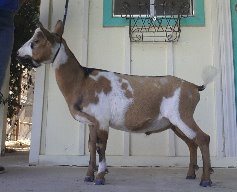 I saw the sale post for this buckling and knew I needed to bring him home. Tomo combined some of the lines currently here, but also added some new Wood Bridge lines I had long admired. Tomo stands on good feet and upright pasterns. He is long, long all over. Great shoulders, brisket and back. I am very happy to have him here. On the paternal side he is from a long line of some of the best Wood Bridge and Old Mountain have to offer. On the maternal side, GCH Urban Acres Tinker Bell and her daughter, Urban Acres HK Trilli. Thank you Ilensrascals for breeding such a nice buckling. He is a paternal half sibling to IlenesRascals Teacher's Hot, 3rd place junior yearling at Nationals and Wolfivan WP Patchouli, who placed 15th as a yearling milker.